There are certain design elements that all blogs should have to keep readers happy and engaged in your content. With the evolution of blogs and social media sites, the expectations for a blog are much higher. Readers expect to be able to read a post and have the ability to quickly comment and share by using the Twitter or Facebook accounts.
The other aspect is having a clean and consistent layout with your blog content. Users have higher expectations now and expect a blog that will be easy to read, find what they are looking for, and navigate.
If you manage a blog, see if you are taking advantage of these 8 design elements.
1. RSS/E-mail Subscribe
One of the key aspects to building a readership for your blog is to have subscribe options easily accessible. Give users the option of subscribing to your blog by RSS or E-mail. Make it prominent in the sidebar, header, each individual post, footer, and static pages.
2. Custom Header
Make your blog stand out by creating a custom designed header. This is your chance to put a unique spin on your blog and set yourself apart from your competitors.
Things to Include:
Logo
Navigation (Categories or Static Pages)
RSS/Twitter Stats
Subscribe Options
Search Functionality
Social Profile Icons
Banner Space (optional)
3. Clear Navigation
If your main navigation is unclear, there is a good chance that a reader will not be able to find other topics that they may be interested in reading about. Use a clear and concise navigation, with no more than 7-10 categories. Once you go past 10, if gives the reader too many options to choose from and can get confusing.
4. Comments
Part of the reason that blogs are so popular, is the ability to provide your own comments on a post. So making it as easy as possible to submit comments is essential. Give the user multiple ways to either comment as a guest, sign-in, or login to one of their social media accounts. Disqus Comments is a fantastic plugin that allows users to easily leave comments by simply signing in to one of the social profiles
5. Social Sharing Icons
Your content is only as good as the people that see it. If your content is not easily made to share, it will be much harder to build a readership to your blog. Using social media icons throughout the homepage, individual posts, and RSS feed, allows for readers to easily share content with friends and social community members.
6. Standard Graphic Sizes
Depending on the layout of your blog and content space, you will only be able to make your images a certain max width. Try to keep your images consistent. So if your max width is 600px, try to make your images 550px. This will help keep your content consistent and make your post more engaging. For images that have a white background, try adding a thin border to help keep that size consistency.
7. Sponsored Sidebar
At some point everyone would like to monetize their blog, by adding banner/sponsorship ad space. As a best practice, the majority of blogs put 4-8 ad spaces in the sidebar because it is prominent real estate.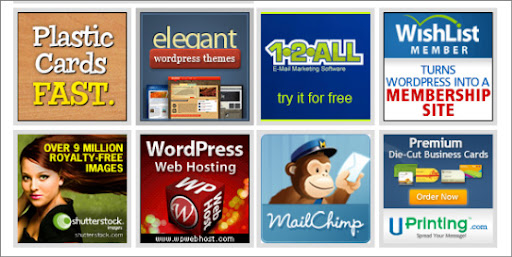 8. Custom Footer
Even though your footer is at the bottom of your blog, it is still an opportunity to keep users engaged in your content. You would be surprised how many people actually scroll to the bottom to look for "site map" styled links to easily navigate a site. This can also be a great way to do some deep linking in your blog to key pages and posts.
Things to Include:
Recent Posts
Popular Posts
Category Links
Links to Offers, Promos, Premium Content
Banner Ads
RSS and Share Icons
Contact Info
Write to Us Link
Source