Consuming trending news on the internet is a little like trying to take a sip from a fire hydrant. There are email newsletters, rss feeds, and aggregators-a-plenty. Bloggers tend to share in common the tendency to overload, creating the stress of too much must-read content at our finger tips. None of this is necessarily bad, we simply must think through our content consumption strategy if we're ever to get anything done. If feed readers and email lists aren't your thing, perhaps these ten sites will be worthy of your bookmark for browsing. What I like about them is that I can glance at them and there is no "mark as read" button necessary. When I click away, I'm done.
TweetTabs
TweetTabs.com offers a sweet multi-column real-time tracker for trending topics and customized searches on Twitter.

TweetTabs.com
Sency
Sency is a real-time search engine that offers much more, including the hottest trending topics in major cities, tying together the power of real-time search and geo-location.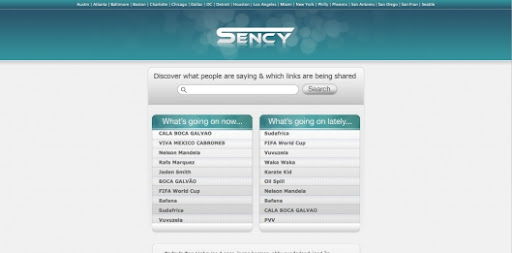 Sency Real Time Search
Collecta
Collecta is another real-time search engine with a nice home page design offering the latest story on five popular topics along with some discussion surrounding that story.

Collecta
Regator
Regator is kind of an aggregator for what's being blogged about across a variety of topics, but you can create an account to personalize your results.

Regator
Guzzle.It
Want to roll your own Alltop or Popurls type interface? Guzzle.It lets you do just that with your own account.

Guzzle.It
RSSmeme
RSSmeme is an aggregator of what's hot among rss feeds across the web. I like the quick ability to switch between "now," "today," and "this week."

RSSmeme
Source